Patient Stories – Betty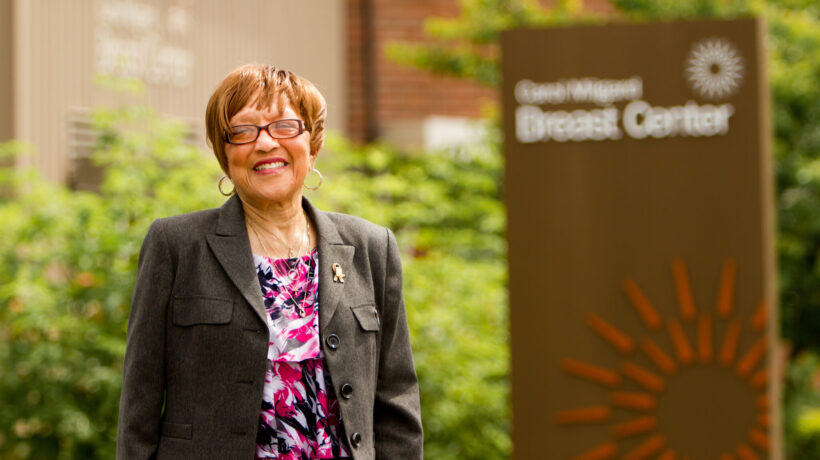 "God took me through a long journey, a journey I will never forget. And if I can help anybody along the way, my living is not in vain."
---
Betty was fifty-five years old when she found out she had breast cancer.  "Just hearing the word cancer is very devastating," she says. "It's like a Mack truck hit you.  I had a tumor that was 5 centimeters – very large."
Betty Missed One Year of Having a Mammogram
She missed one year of having a mammogram.  "So if one year could do that, it was probably already there.  If I had missed another year, I don't think I would be here," she says.
People of Color Don't Talk About Cancer
In the African American and other communities, many don't talk about cancer, says Betty.  "People of color don't talk about cancer because they've been taught, usually at a young age, not to say anything about it. That really bugged me because I figured that if I had been diagnosed, I wondered how many others were out there who needed someone to talk to."
"Most people of color have been brought up to take care of others and that is what they do.  I tell them that if you don't take care of yourself, how can you take care of someone else?"
Betty Shocked People By Saying, "I Have Breast Cancer."
Betty initially shocked people when she was diagnosed. "I shocked them because they said they'd never seen anybody walk around saying 'I have breast cancer.'  I was not ashamed because it was there. Why hide it?  A lot of people have had it, but they don't want to say anything."
"Do you love yourself?" asks Betty.  "If you do, you need to do these things.  You need to go get a mammogram.  You need to start doing monthly check ups….you don't have to have had cancer in your family."
Take Care of Yourself
Betty tells people to forget about old myths and things others might say.  "Take care of yourself.  You start off, you need your mammogram.  You need to go get yourself checked," she says to women she meets.
"God took me through a long journey, a journey I will never forget," adds Betty. "And if I can help anybody along the way, my living has not been in vain."
Let's Talk About It
Betty recognized a need for women of color to have a breast cancer support group. A year after she had a mastectomy in 1997, she started Sisters of Hope in Tacoma. "We'll cry with you, we'll laugh with you.  We are there to get educated about what to do to help ourselves and others.  Let's talk about it – let's find out what's going on, so we can help each other," she says.
Talk About It