Pierce County Breast Disease Conference
Remarkable progress has been made in the primary treatment modalities for breast cancer: surgery, radiation therapy, cytotoxic chemotherapy, and novel biologic therapies. As a result, a multidisciplinary approach has become the standard in the management of patients with breast cancer. Many of the recent advances in the diagnosis and treatment of breast cancer require close collaboration between cancer specialists with differing areas of expertise.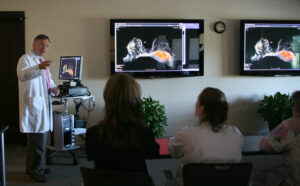 In recognition of these advances, the Carol Milgard Breast Center hosts a virtual gathering place for a weekly Pierce County Breast Disease Conference. This conference brings together a team of specialists to evaluate patients with known breast disease in a timely and coordinated manner.
The conference reviews actual patient cases. It is led by a breast center radiologist who presents breast imaging findings and a pathologist who presents pathology findings. The conference is open to the medical community, and meets weekly on Thursday mornings, from 7:00 a.m. to 8:00 a.m. virtually. Advanced registration is not required, but there are occasional weeks the conference may be canceled. For more information regarding the weekly meetings, please contact our Provider Response Team at cmbcprt@tranow.com.